The leading media for European vaping pros !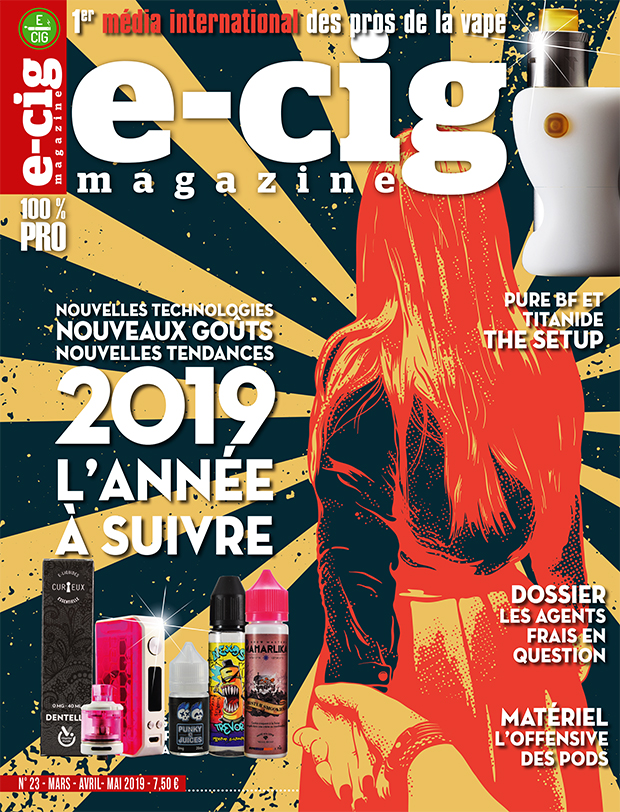 e-Cig magazine, was created in France in December 2013. It is a professional press title specialized in the vape industry. This quarterly is now distributed to 13 000 vape professionals in many countries.
5 400 copies of the French edition are routed in France, French overseas territorial departments, Belgium, Switzerland, Luxembourg, Quebec and DOM-TOM.
7 600 copies of the English version are distributed in the United Kingdom, Italy, Germany, Spain, Portugal, Canada….
e-liquids, e-cigs, electro mods, mech mods, manufacturing, culture, legislation, health, art of vape. Our editorial and experts present 6 times in the year the essential of the vape world through news, testimonials, interviews, customer stories, tests and buyer's guide.
e-cigmag.com offers to professionals of vape a free subscription to the most trusted source of information.
Laissez-nous vos coordonnées
Planning annuel de parutions
| | |
| --- | --- |
| Numéro | Date de sortie |
| e-Cig magazine n°23 | 07 March 2019 |
| e-Cig magazine n°24 | 07 June 2019 |
| e-Cig magazine n°25 | 05 September 2019 |
| Numéro Spécial 1 | 04 October 2019 |
| Numéro Spécial 2 | 15 November 2019 |
| e-Cig magazine n°26 | 05 December 2019 |